Take a magical tour of London's Christmas light displays with a London guide
Explore London at its prettiest - when it is all lit up and decorated with bows and bells in the lead up to Christmas. In this fun-filled tour you will have the chance the experience the brightest, quirkiest and most jaw-dropping Christmas displays in the city, Together we will wander through lesser-known streets to see festive decorations and hear unusual and magical historical tales of the history of London.
From upscale Mayfair – that wasn't always so elegant – to the bright lights of Soho, you will discover the most instagrammable Christmas scenes off the beaten track (and see the main sights too, of course!)
Halfway through the walk we will have a mulled wine pit stop (on the house!) to warm up and soak up the atmosphere in a traditional Mayfair pub.
£30 per person
Available selected evenings in November and December
2 hours
Bond Street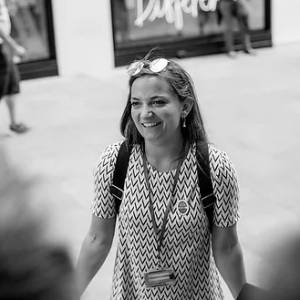 Hosted by Ginza Insider
Katie
London guide and blogger
I am the the creator of a unique London tour concept that encourages travellers to discover a different London. I am a qualified London Blue Badge Tourist Guide and a recipient of their prize for 'Best Overall Presentations'. I love hosting curious travellers who want to get under the skin of London. My blog Look Up London won the UK Blog Awards Blogger of the Year in 2015 and Art and Culture Blog of the Year in 2018. I have a degree in Art History from the University of Warwick and have previously worked at the Victoria & Albert Museum and the National Theatre.
Next available
Select dates to see availability
There are currently no upcoming dates scheduled for this experience during the selected period. Please
enquire
to contact the host about booking this experience.

Katie (host): Hello, enter your details below and I will get back to you soon!